MEDICA 2023: reliable, versatile, and trusted solutions for innovative diagnostics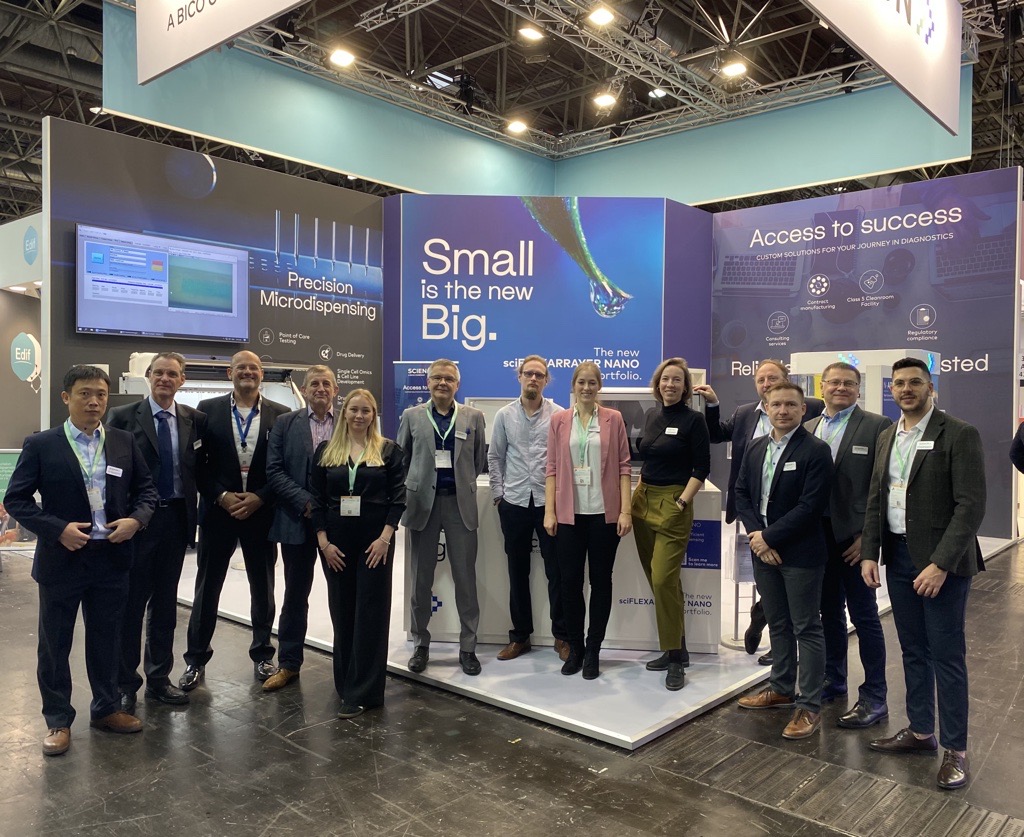 With over 5,300 exhibitors from almost 70 countries MEDICA in Düsseldorf is one of the largest medical trade fairs in the world and one of the most important events we look forward to. This year, once again, we met our partners and collaborators, exchanged ideas, and discussed the latest developments. Our commitment to advancing healthcare technologies and enabling innovative diagnostics took center stage as we showcased our latest solutions!
A Platform for Innovation: Assay Development and Manufacturing Solutions for Diagnostics
We presented a suite of solutions designed to empower manufacturers in the diagnostics sector. From the instruments for precise dispensing of picoliters, nanoliters, and lower microliter volumes to flexible assay development and contract manufacturing services – our offerings aim to take bold product ideas to the market faster and easier.
sciFLEXARRAYER SX – thanks to the camera installed inside of the instrument it was possible to watch the picoliter dispensing process on a big screen while getting a technology introduction from our Global Support and Service team
sciFLEXARRAYER S3 NANO A/D – we presented a new multichannel configuration for aspirate-dispense nanoliter deposition without tedious calibration steps
N-ABLE –

a new "all in one box" concept of our modular and customizable high-throughput manufacturing solutions
Seminar Session: The Next Generation of Lateral Flow Assays in Multiplex Format
In recent years, multiplex lateral flow assays have become increasingly popular in disease management because they can rapidly analyze multiple parameters or biomarkers simultaneously. Common lateral flow test formats incorporate multiple lines or capture zones on the same test strip, each designed to detect a specific target molecule. There are limitations to these types of in-line tests, including false negatives, cross-reactivities, or high antibody consumption. During our seminar organized together with Sartorius, a complete solution including assay development with structured membranes, cassette use, and advanced LFA readout was showcased to the audience. We were happy to see the room filling up quickly and all available seats being taken! If you missed our seminar, you can find the white paper here.
Collaborative Networking: Get Together at SCIENION's Booth
MEDICA provides an unparalleled opportunity for networking and collaboration so we organized a get-together event for our clients, partners, and friends. In a relaxed atmosphere, with tasty snacks and refreshing drinks, we enjoyed discussions around diagnostic sector trends, business plans, ambitious visions, and much more!
We would like to thank our community and all those who visited us at MEDICA 2023. Your support fuels our passion and propels us forward on our mission to enable the future of diagnostics!